General Aviation of Inner Mongolia
PHONE::0472-6970892
E-MAIL::gaim@gaim.com.cn
ADDRESS: NO.2 Xitu Road, General Aviation Building, InnerMongolia, China
民俗文化源远流长,在长期的生产、生活中形成许多风尚和习俗,并代代相沿,积久而成丰富多彩、特色鲜明的民俗文化。内蒙古通航航空有限公司于石拐产业园东区用地20亩拟建一条民俗街,为游客提供民族工艺品,小吃,表演等项目。
GAIM plans to build in three phases from 2016 to 2026, a large general aviation industrial park of northen China, at Shiguai District, Baotou, Inner Mongolia, It covers an area of 5600 acres, with a total investment of 3.552 billion yuan. This project is the comprehensive industrial park, a regional transformation and upgrading project with a general industrial park as the core. It carries out aviation operations, air travel, sports, education, training, and aviation research and development, manufacturing, production and other projects etc. This project is the first in Inner Mongolia who has ever construct a GA airport at an altitude of 1410 meters high.
Wudangzhao General Aviaion Airport is the first private investment airport in Inner Mongolia. There will be manufacturing, aviation services, eco-tourism, aviation life and other major formats around this project. As an axis around which will cover the tourism economy zone of Hohot, Baotou and Erdos, and then radiate to the ouside area. The purpose is to form the largest general aviation industry park in northen China.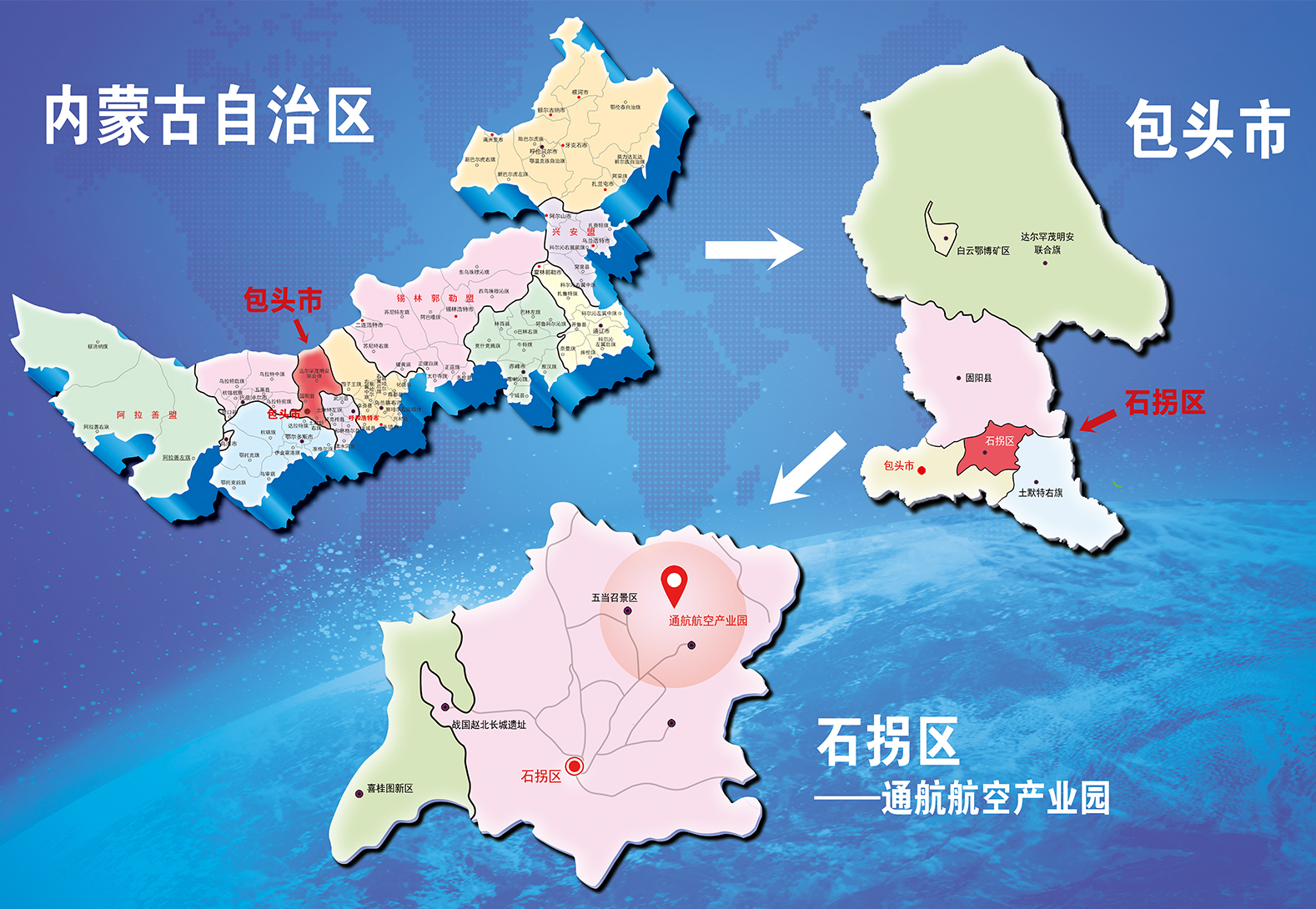 Shiguai District is located in the hinterland of Daqingshan, Yinshan Mountain, Inner Mongolia, it is a narrow strip who has a steep terrain in north and gentle terrain in south. In the east, it is adjacent to wuchuan county, on the other side of the mountain is Tuyou county , the west is connected with the jiuyuan District, and the north is connected with Guyang county.
Shiguai district is located in the northeast of Baotou,Inner Mongolia, Shiguai district was built and prospered because of coal mine.Xiguitu New District is the seat of the government. It is listed as the region's economic and social transformation demonstration area.
In recent years, Shiguai District in accordance with the general idea "the construction of the cultural tourism and leisure industry base, Wudang Lamasery 5A-to-be national senic spot as an engine, GA airport and Mount Daqing filming base as the wings, dynamic train sightseeing corridor and city ecological leisure sports industry as the complement".

GA industrial park is is devided into two parts, the west side and the east side.
West side specialized in the construction and operation of the general airport and the relevant facilities; the research, development and production of helicopter,fixed wing aircraft and machine parts; the flight services; the aircraft hosting and maintenance; manufacturing, research and development and application services of UAS. As well as the GA operation, flight service, GA logistic, aviation tourism, aviation education, aviation filming, aviation sports. An integrated industry division based on GA airport,together with aircraft parts processing and aviation logistics.
East side specialized in GA filming tourism,culture creativityproject, GA basic service and life support. As well as pilot license training, UVA training, leisure & entertainment, tourism & resort and theme park.A living area with high-tech industry, convention and exhibition, sightseeing, tourism, leisure and catering.
From 2015 to 2018, investment of first phase is 5.59 billions.Investment includes airport, supporting facilities, roadway and network system, R&D production of UAV, helicopter,fixed-wing aircraft. As well as GA operation, flight Services, GA tourism, GA education&training, aviation sports, aviation photography.
Airport terminal is located in Baicaogou village, Wudangzhao town, Shiguai district, Baotou city. It's about 34 kilometer from downtown area of Baotou. Runway: length 1200m, 30m wide. Station site: length 200m, 97.25m wide. There are 6 B-class airport gates, 2523㎡ terminal building. Communication, power supply, HVAC, water supply and support facilities will also be built around. Airspace class is 2B. It is designed with 1200 movements per year.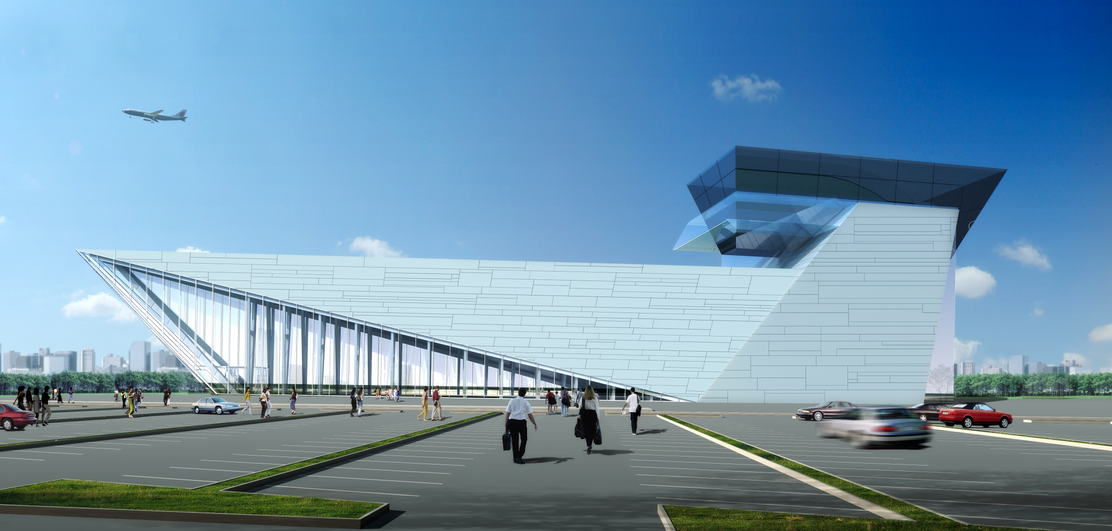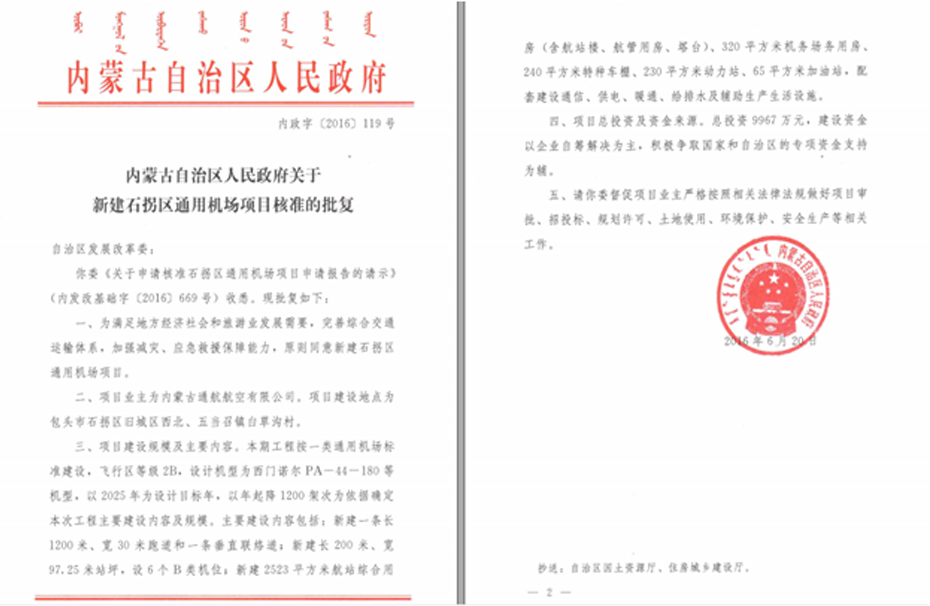 ∙ First GA airport based on private investment in Inner Mongolia.
∙ First GA theme airport with GA industrial structure in Inner Mongolia.
∙ First GA company that cooperated with North America, Australia and Europe advocates 2.0 industrial park in Inner Mongolia.
∙ Industrial transformation by privatization investment.
∙ Located in central Inner Mongolia, in the Bohai economic cercle, the economic belt of the Yellow River.
∙ Area superiority such as travelling, technology, fabrication & assembly and well developed transportation.